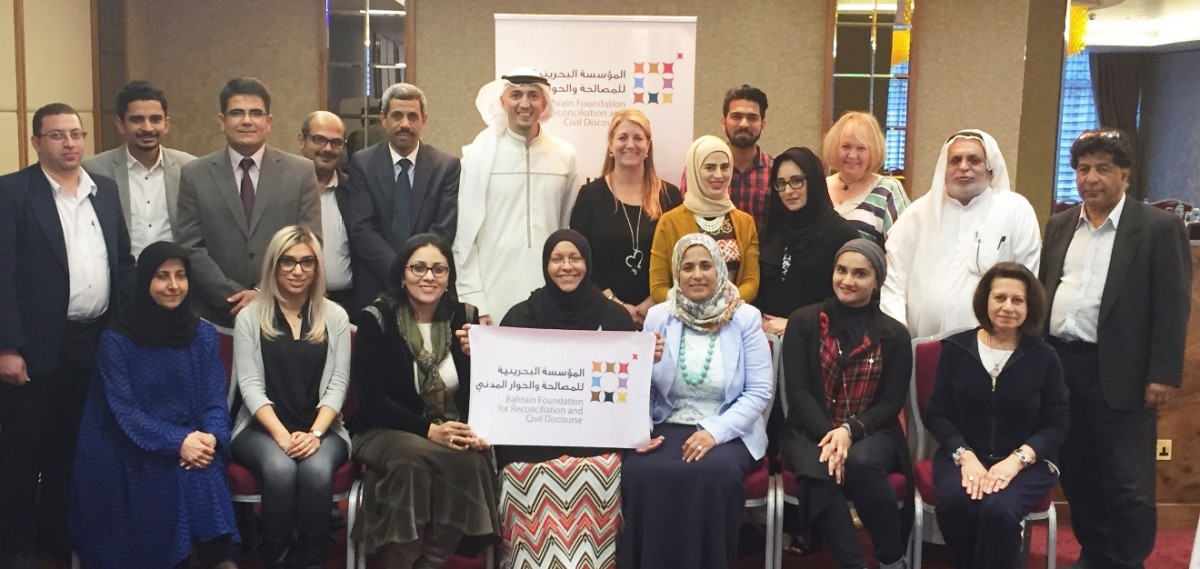 BFRCD concluded on Saturday evening "From Conflict to Dialogue" workshop, which was organized by the foundation, and presented by the American expert Dr. J' Lein Liese for the fourth consecutive year.
Dr. Liese looked over mechanisms that lead to a healthy civil discourse, methods of resolving conflicts through a meaningful community discourse, and standards that need to be obeyed by various parties. Notably, 35 people; a number of Bahrainis and some Non-Bahraini residents, participated for two consecutive days in the workshop.
Dr. Liese highlighted the need of reinforcing the ethics of civil discourse, listening to dissenting opinions in order to create a positive environment in human communities that encourages integration, cooperation and social compatibility, and to contribute in the maintenance of social security and civil peace.
The US expert also presented to the participants a number of models from different countries regarding the conflict and discourse in order to realize experiments of nations and learn from them. Formerly, the participants were distributed into groups to carry out a number of practical exercises and activities, amid a remarkable interaction, lively atmosphere and constructive discussion.
At the conclusion of the workshop, the Chairman of the Board of Trustees of the Bahrain Foundation for Reconciliation and Civil Discourse, Mr. Suhail Bin Ghazi Algosaibi and the international expert Dr. J' Lein Liese, presented certificates of attendance to the participants. Then, Mr. Algosaibi presented a commemorative shield to the American expert.
Mr. Algosaibi expressed his thanks and appreciation to Dr. Liese for the wonderful presentation of the workshop, thanking at the same time young Bahrainis who participated actively in this event, valuing the importance of contents addressed by the workshop and the results came out, stressing that Bahrain Foundation for Reconciliation and Civil Discourse is determined to rearrange such scientific and training events that serves the Kingdom of Bahrain and the public, particularly the youth.
Algosaibi added that the Foundation has been working hard, since its start, to contribute efficiently in community development on the basis of the detection of its responsibility towards society, which stems from love for the homeland.
On the other hand, Dr. J' Lein Liese expressed her thanks to BFRCD for the leading initiative of devoting the culture of dialogue and coexistence in society, stimulating Bahraini youth skills which qualifies the society to take advantage of the maximum capacities of its members, expressing at the same time her admiration by what the Kingdom of Bahrain has achieved regarding higher human development, and the remarkable model of co-existence and prosperity it has represented over the years.
It is noteworthy that the workshop which was held at the "Suisse Bell" hotel on Friday and Saturday on a 10 training hour basis, was attended by 35 participants, both Bahrainis and Non-Bahraini residents. This workshop is held for the fourth year in a row.