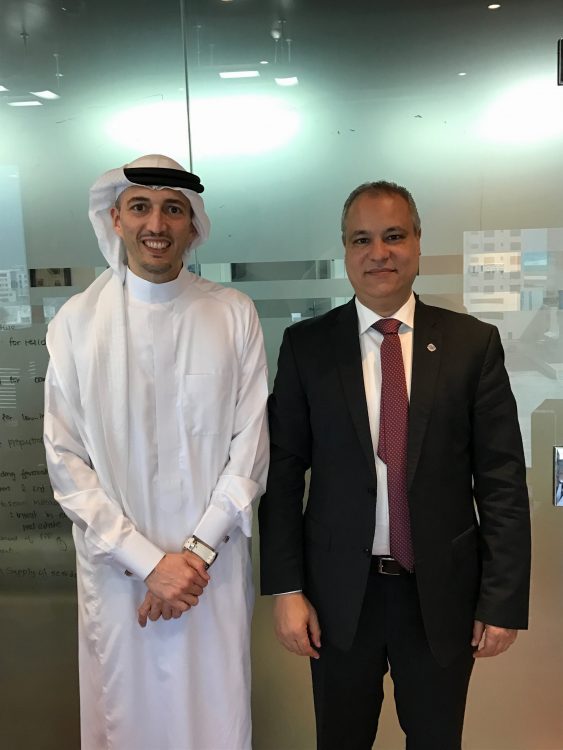 Manama – Bahrain Foundation for Dialogue
The Chairman of the Bahrain Foundation for Dialogue Mr. Suhail Algosaibi welcomed Mr. Khaled Khalifa, the Regional Representative of the United Nations High Commissioner for Refugees (UNHCR) in the GCC countries, accompanied by Mrs. Amal Alamri the Associate Private Sector Partnerships Officer. The meeting held last Sunday was also attended by Mr. Abbas Hamada, the Executive Secretary of the Foundation.
Mr. Algosaibi explained the Foundation's activities, principles, objectives and future plans with the visiting Delegation, assuring that the Foundation aspires to see Bahrain as a role model of coexistence to be looked up to.
On the other hand, the Delegation of the United Nations High Commissioner for Refugees (UNHCR) presented a brief summary about the Agency, its objectives, achievements and scope of work. The Delegation also discussed the refugees and immigrants situation in the Arab Region, where 39% of the international immigration movement takes place. The Agency's efforts in aiding these immigrants were then displayed in gratitude to the efforts of the GCC countries' in providing the immigrants' basic needs.
Finally, the Delegation expressed their admiration of the principles adopted by the Bahrain Foundation for Dialogue, and extended their utmost support to the Foundation's major endeavors in holding a considerable number of qualitative events in this regard, hoping to share this experience with other countries.
The two parties further assured their readiness for mutual cooperation in relative issues.